Teams make another good game, now in Camp Nou, and Barcelona can reverse the first leg result to qualify for the quarter
After losing the first leg duel of the second round of the King's Cup, Barcelona received the Athletic Bilbao at the Camp Nou on Wednesday. Needing victory, the Catalans did not ease, but hit the Bilbao by 3-1 – 4-3 on aggregate – ensuring qualification for the quarterfinals of the competition.
The game
As expected, Barcelona dominated the ball in the first stage and suffered a strong marking the opponent who played even further back than the first leg. Therefore, the home team had great difficulty in the first minutes of the game to quit playing and open spaces in the attack.
With the passage of minutes and betting on a quick exchange of passes, the team of Luis Enrique came with danger. At 25, Iniesta found Neymar in great position between the defenders. The Brazilian entered the area, rolled Suárez who sent him to the back of the net. However, the auxiliary saw a nonexistent Brazilian offside and the goal was disallowed. Eleven minutes later Messi released Neymar on the left and the Brazilian went to the edge of the area to cross at the far post to Suarez. No drop the ball, the Uruguayan scored on, crossed, opening the scoring with a fine goal.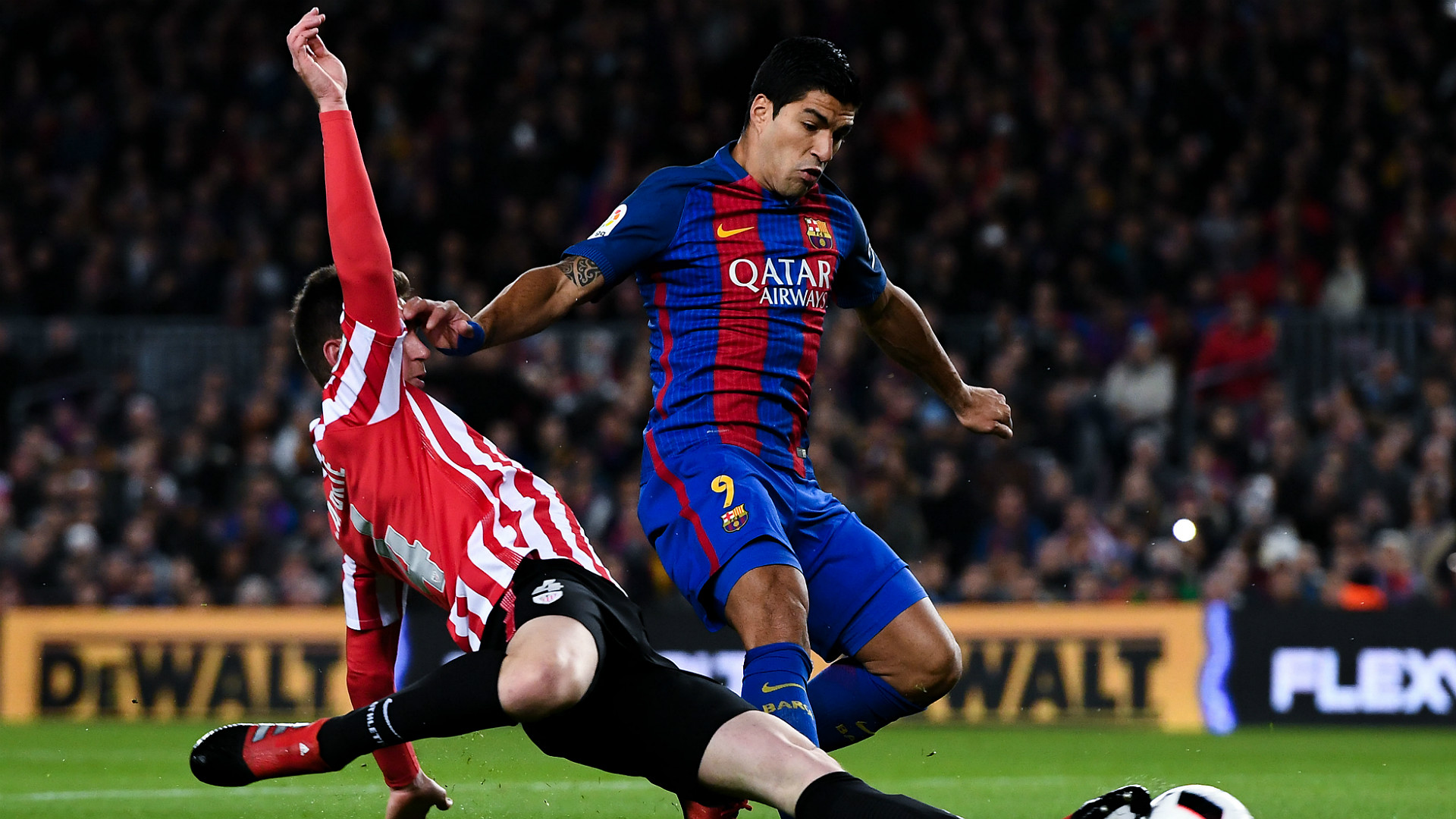 Suárez was pretty fired in the first stage (Getty Images)
The second half began buzzing at the Camp Nou. After three minuntos, Neymar received the left, took off with the ball entered the area, but eventually dropped the mark and the referee called a penalty. The Brazilian was for charging and hit perfectly, taking the goal.
However, three minutes later Bilbao said. The visiting team appeared at the right speed until the ball is in the purview head Saborit, at the far post. The midfielder broke through and tested in standing against Cillessen to decrease the score. The score took the match into overtime and Barcelona accelerated the pace by pressing the rival to end the duel in regulation time. At 33, Messi free kick near the area to perfection, at the foot of the post in the goal corner and secured the classification of the Catalans.
Now the Barcelona awaits the completion of the second round to see who will face in the next phase.
Luis Suárez Offside Goal 25′

Barcelona 1-0 Athletic Bilbao | Luis Suarez 35′

Barcelona 2-0 Athletic Bilbao | Neymar (Penalty) 48′

Barcelona 2-1 Athletic Bilbao | Enric Saborit 52′

Barcelona 3-1 Athletic Bilbao | Lionel Messi 78′